Preoperative Knee Exercise Program
Preoperative Exercise Program
If you are currently performing an exercise program, continue doing so.
If you are not currently performing an exercise program, you may begin incorporating exercises as directed.

If you attempt to perform any of these exercises and they cause pain or discomfort, stop doing them.

You may benefit from a session of physical therapy prior to surgery.

This session is dedicated to gait training, appropriate use of assist devices you may use after surgery and demonstrating proper technique and form for your exercise program.

If there are any questions about the physical therapy programs, either prior to surgery or after surgery, please contact our physical therapy department directly 248.659.0199.
Knee Exercises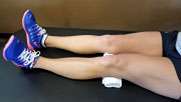 Quadriceps Set
With your knee over a towel roll, tighten the muscle on the front of your thigh to push down into the towel.
Hold 10 seconds | Repeat 10 times | Perform 1-2 sessions per day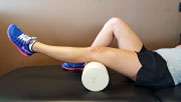 Short Arc Quad
With your knee bent over a thick roll, tighten the muscles on the front of your thigh to straighten your knee. Keep the back of your knee against the roll.
Hold 10 seconds | Repeat 10 times | Perform 1-2 sessions per day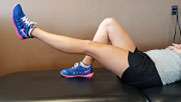 Straight Leg Raise
Tighten the muscles on the front of your thigh and lift the entire leg 6 inches from the bed. Make sure to keep your knee completely straight.
Hold 10 seconds | Repeat 10 times | Perform 1-2 sessions per day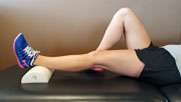 Static Knee Extension Stretch
Lying on your back with knees bent, tighten stomach. Keep breathing.
Hold 30 seconds | Repeat 2 times | Perform 1-2 sessions per day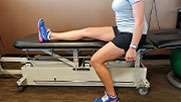 Seated Hamstring Stretch
Place your leg straight on the bed with your opposite foot on the floor. Keeping your knee straight and your toes pointed up, slowly lean forward until you feel a stretch in the back of the knee/thigh. Keep your back straight and do not tuck your chin, no bouncing.
Hold 30 seconds | Repeat 2 times | Perform 1-2 sessions per day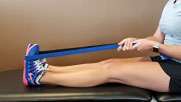 Seated Calf Stretch
Keeping your knee straight, place a strap around the ball of your foot. Pull your toes back towards you until you feel a stretch in your calf.
Hold 30 seconds | Repeat 2 times | Perform 1-2 sessions per day