Nicholas B. Frisch, MD|MBA
Hip & Knee Replacement
Board CertifiedOrthopaedic Surgeon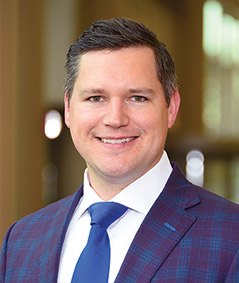 Dr. Frisch and his dedicated staff believe in creating a very personalized experience with the highest level of service. His practice focuses on minimally invasive joint replacement and complex primary and revision hip and knee replacement. Dr. Frisch utilizes efficient pain management pathways that allow for rapid recovery and faster return to normal activity. Select patients may qualify for outpatient joint replacement and go home the same day as surgery. For total hip replacement, Dr. Frisch will perform surgery using either an anterior or mini-posterior approach depending on the individual's needs.
Dr. Frisch was born and raised in Michigan and graduated from Detroit Country Day High School. He attended the University of Vermont for college, Loyola University Chicago for a Master's in Medical Science and then Tufts University School of Medicine where he earned his MD and MBA in Healthcare Management. While at Tufts Dr. Frisch was awarded the Norman S. Stern MD|MBA Award for excellence in academics and leadership.
Dr. Frisch completed his Orthopaedic Residency training at Henry Ford Hospital in Detroit. During his time at Ford, he was actively involved in research, winning several local and regional podium presentations. He was equally involved in health care innovation, winning the innovation challenge for "reducing 30-day readmission through technology," and the Ford Motor Company Connected Health Challenge. Dr. Frisch also won an award for the development of "wireless, wearable sensor technology in health care." Upon completion of his training at Ford, Dr. Frisch received the Outstanding Resident Award for 2016. Dr. Frisch serves as the Vice Chief of Surgery at Ascension Providence Rochester Hospital.
Because of his experience, commitment to patients, education, and continued professional development, Dr. Frisch has earned the distinction of fellow of the American Academy of Orthopaedic Surgeons. He has also been selected as a Top Doc 2022 in Metro Detroit by Hour Detroit and dbusiness, Detroit's Premier Business Journal.
Dr. Frisch completed his Adult Reconstruction Fellowship at Rush University Medical Center in Chicago, Illinois. It was there that he was selected as a Health Policy Fellow for the American Association of Hip and Knee Surgeons. As a Health Policy Fellow, Dr. Frisch has been able to actively advocate for legislative agendas that benefit both his patients and the joint replacement community.
Dr. Frisch's clinical research interests focus on the treatment of hip and knee degenerative disease, implant design, corrosion and perioperative patient optimization. He is also engaged in larger health policy related topics including risk adjustment for value-based reimbursement and systems-based quality care initiatives.
EMPLOYMENT
ASCENSION CRITTENTON HOSPITAL, Rochester, MI


2017 - present

ST. JOSEPH HEALTH SYSTEM, Tawas City, MI


2018 - present
EDUCATION & TRAINING
AAHKS HEALTH POLICY FELLOWSHIP, Chicago, IL


2016 - present

RUSH ADULT JOINT FELLOWSHIP, Chicago, IL
Department of Orthopaedic Surgery, Fellow


2016 - 2017

HENRY FORD HOSPITAL, Detroit, MI
Department of Orthopaedic Surgery, Resident


2011 - 2016

TUFTS UNIVERSITY SCHOOL OF MEDICINE, Boston, MA
MD|MBA in Healthcare Management


2007 - 2011

LOYOLA UNIVERSITY CHICAGO, Chicago, IL
Master of Arts in Medical Science


2005 - 2006

UNIVERSITY OF VERMONT, Burlington, VT
Bachelor of Arts in English - Minor in Chemistry LICENSURES


1999 - 2003
LICENSURES
Board Certified by the American Board of Orthopaedic Surgeons


August 2019 - Present

Michigan Medical License & Controlled Substance License


June 2017

Illinois Medical License


2016 - present

Michigan Educational Limited License


2011 - 2016

Basic and Advanced Cardiac Life Support, Detroit, MI


June 2012, May 2013, May 2015

Fundamentals of Critical Care Support Provider Conference, Detroit, MI


May 2012
PROFESSIONAL MEMBERSHIPS
HONORS AND AWARDS
Top Doc 2020, 2021 & 2022 in Metro Detroit by Hour Detroit and dbusiness, Detroit's Premier Business Journal
Designated as a Fellow of the American Academy of Orthopaedic Surgeons
Orthopedics Best Clinical Article Award -

2016

Frisch NB,

Nahm N, Khalil JG, Guthrie ST, Charters MA. Short versus Long Cephalomedullary Nail for Pertrochanteric Hip Fractures - Orthopedics, 2016. PMID: 27874910

Frisch NB,

Evans T, Dobson C, Gibson G, Parsons TW, Mott MP. The Validity of a Rat Model for Analyzing miRNA in Chondrosarcoma
Winner Best Poster - American Academy of Orthopaedic Surgeons - San Diego, CA -

March 2017

AAHKS Healthcare Policy Fellowship -

2017-2018

Outstanding Resident Award Henry Ford Hospital - Detroit, MI -

May 2016

Winner Ford Motor Co. Connected Health Challenge - Detroit, MI -

June 2016

Winner Best Paper Award, Michigan Orthopaedic Society Annual Meeting - Mackinac Island, MI -

June 2016

Frisch NB,

Taliaferro K, Wessell NM, Ananthasubramaniam K, Brooks K, Silverton CD. Metal Ion-Induced Cardiomyopathy in Dual-Taper Modular THA
2nd Place Paper Award, Michigan Orthopaedic Society Annual Meeting - Mackinac Island, MI -

June 2016

Frisch NB,

Pepper A, Guthrie ST, Silverton CD. Intraoperative Temperature Monitoring in Hip Fractures
Winner Mid-America Orthopaedic Associate Educational Grant - Bonita Springs, FL -

April 2016

2nd Place SEMCME Research Forum - Rochester, MI -

May 2016

Frisch NB,

Pepper A, Guthrie ST, Silverton CD. Intraoperative Temperature Monitoring in Hip Fractures
Alpha Omega Alpha - Member, Wayne State University School of Medicine -

2014

Winner Henry Ford Annual Medical Education Research Forum (Clinical) - Detroit, MI -

February 2016

Frisch NB,

Pepper A, Guthrie ST, Silverton CD. Intraoperative Temperature Monitoring in Hip Fractures
Winner Henry Ford Annual Medical Education Research Forum (Basic Science) - Detroit, MI -

February 2016

Frisch NB,

Lynch J, Banglmaier RF, Silverton CD. The Effect of Impact Location on Force Transmission to the Modular Junctions of Dual-Taper Modular Hip Implants
Winner of Detroit Academy of Orthopaedic Surgeons Resident Research Symposium - Birmingham, MI -

May 2015

Frisch NB,

Wessell NM, Charters MA, Goldstein A, Cann B, Silverton CD. Impact of Body Mass Index on Blood Transfusion in Total Hip and Knee Arthroplasty
Winner of Detroit Academy of Orthopaedic Surgeons Resident Research Symposium - Birmingham, MI -

May 2014

Frisch NB,

Charters MA, Sikora-Klak J, Banglmairer RF, Oravec DJ, Silverton CD. Intraoperative Periprosthetic Femur Fracture: A Biomechanical Analysis of Cerclage Fixation
Winner of Henry Ford Health System Research Symposium in Epidemiology - Detroit, MI -

May 2014

Frisch NB,

Charters M, Dobson C, Les C, Hoegler J, Hakeos W, Guthrie T. Intertrochanteric Hip Fractures: How Time To Surgery and Comorbidities Affect Mortality
Winner of Edward D. Henderson, M.D. Physician in Training Award, Mid-America Orthopaedic Association Annual Meeting - San Antonio, TX -

April 2014

Charters MA,

Frisch NB,

Wessell NM, Sikora-Klak J, Yu S, Jeffries JJ, Les CM, Silverton CD, Laker M. Rivaroxaban versus Enoxaparin for Venous Thromboembolism Prophylaxis after Hip and Knee Arthroplasty
Winner $10K Henry Ford Innovation Institute Challenge - reducing 30 day readmissions through technology -

2013

$2500 Henry Ford Innovation Institute Challenge - wireless, wearable sensor technology in healthcare -

2014

Norman S. Stern MD|MBA Award, Tufts University School of Medicine -

2011

Phi Beta Kappa, University of Vermont -

2003

English Departmental Honors -

2003

NCAA Division I Academic Honor Roll -

2000 & 2001

National Society of Collegiate Scholars -

2001

Golden Key International Honor Society -

2001

Phi Eta Sigma National Honor Society -

2000
PROFESSIONAL DEVELOPMENT
MAOA Annual Meeting


2021

AAHKS Annual Meeting -Virtual Session Moderation for Session Six, Primary Hip Arthroplasty and Metal Corrosion


2020

Orthopaedic Trauma Association (OTA) Annual Meeting


2020

AAHKS Legislative retreat


2020

AAHKS Spring Meeting


2019, 2020

AAHKS Annual Meeting


2019, 2020

MAOA Annual Meeting


2020

AAOS Annual Meeting


2019, 2020

National Orthopaedic Leadership Conference, Washington D.C.


June 2018

AAHKS Leadership Retreat, Miami, FL


May 2018

International Congress for Joint Replacement Hip and Knee Course, Vail, CO


February 2018

AAHKS Legislative Retreat, Washington D.C.


February 2018

AMA National Advocacy Committee Meeting, Washington D.C.


February 2017

9th Annual Joint Replacement Fellows Symposium, Vail, CO


January 2017

AAHKS Spring Meeting


May 2017, 2018

AAHKS Annual Meeting


2014, 2016, 2017

AAOS Annual Meeting


2014, 2015, 2016, 2018

AAOS Board Review


2016

Miller Board Review


2016

MAOA Annual Meeting


2014, 2015, 2016, 2018

AANA Fundamentals in Arthroscopy Course, Chicago, IL


January 2014

AAHKS Residency Course, Dallas, TX


November 2013

ISTA Annual Meeting


2013, 2015

Dallas Short Course – Orthotics and Prosthetics, Dallas, TX


October 2013

Michigan Orthopaedic Society Annual Meeting, Mackinac Island, MI


June 2013

AO Basic Fracture Course, Charlotte, NC


January 2013
ADMINISTRATIVE SERVICE
Ascension Crittenton Optimization Clinic Committee


2018 - Present

MARCQI Representative – Bald Mountain Surgery Center


2017 - Present

Orthopaedic Joint Surgery Power Plan Committee


2017 - Present

Physician Advisory Committee, Crittenton Hospital


2017 - Present

Reviewer – Journal of Arthroplasty


2017 - Present

Wayne State University School of Medicine Research Forum, Judge


2016

Department of Orthopaedic Surgery, Resident Admissions Committee


2016

Mayo Clinic Healthcare Systems Process Improvement Committee, Reviewer


2014

HFHS EPIC Physician Readiness Committee


2013-2014

HFHS House Officer Council, Representative


2012 - 2013

HFHS Department of Orthopaedics Bundled Payment Pilot Committee


2011 – 2013

HFHS Quality Exposition Competition, Judge


November 2012

MD/MBA Program Director Search Committee


2010 – 2011
PROFESSIONAL HEALTHCARE EXPERIENCE
3M, Maplewood, MN
Physician Advisor


September 2016 – Present

miROM, LLC, Detroit, MI
Co-Founder
Develop and design sensor technology for musculoskeletal injury prevention and rehabilitation


September 2016 – Present

MD|MBA Network, Boston, MA
Co-Founder
Developed business plan and ascertained funding for launch of MD|MBA Network – a fully functional web-based
platform for collaboration between MD/MBA alumni, faculty, administration and current students
Designed web-based platform, managed platform construction and coordinated with faculty and administration,
orchestrating official Network launch event at Tufts University School of Medicine


September 2008 – June 2012

Tufts Medical Center, Boston, MA
Consultant
Benchmarked and proposed a curriculum for a Leadership Education Program designed for new physician
executives/leaders at Tufts Medical Center
Created Program's teaching structure and content through collaboration with administrators and faculty at Tufts
University and Brandies Heller School of Healthcare Management


April 2010 – June 2011

Tufts Medical Center Physicians Organization, Boston, MA
Consultant
Conducted market research for proposed business development models
Proposed strategies to optimize service delivery based on market analysis


November 2009 – March 2010

Tufts Medical Center, Boston, MA
Consultant
Researched and provided strategic analysis of new business development protocols for medical universities, academic
medical centers and device/pharmaceutical companies
Proposed and presented potential Tufts Medical Center-specific models for new business development


August 2008 – January 2009

Tufts Medical Center, Boston, MA
Consultant
Reviewed evidence-based medicine, provider perspectives, competitor positions and Tufts Health Plan data on total joint replacement
Provided consolidated review of clinical decision-making processes and developed potential medical policy and
management strategies surrounding total joint replacement


May – November 2008

Tufts Health Plan, Watertown, MA
Consultant
Developed a business plan for a Sports Medicine Fellowship in Family Medicine
Analyzed process flow for the Department of Orthopaedics at the Cambridge Campus


June – August 2007

Cambridge Health Alliance, Cambridge, MA
Consultant
Developed a business plan for a Sports Medicine Fellowship in Family Medicine
Analyzed process flow for the Department of Orthopaedics at the Cambridge Campus


June – August 2007
EMPLOYMENT
ADDITIONAL INTERESTS
windsurfing ∙ kiteboarding ∙ skiing ∙ lacrosse ∙ hunting ∙ fishing
Here is more information about me and my practice