Opioids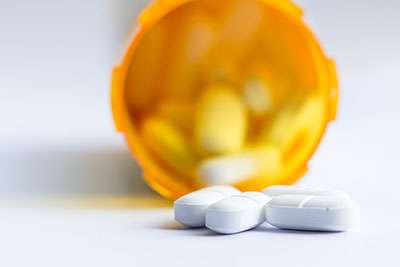 Opioids are potentially addictive drugs for pain that traditionally have been prescribed after joint surgery. As of June 1, 2018, Michigan state laws to reduce patients' risk of opioid addiction went into effect as part of a package of measures passed in December to curb overdose deaths in the state. We, as physicians, are also required to educate patients on the risks of addiction and will be prohibited from prescribing more than a seven-day supply of an opioid for acute pain.
In our practice, we use a proactive approach to pain management. We typically prescribe nonopioid medications on a schedule that prevents the pain from intensifying to the point where strong opioids are necessary.
Risks of addiction
Opioids are a highly addictive drug and anyone who takes opioids is at risk of developing addiction. Sadly, these drugs are responsible for the majority of overdose deaths in the U.S. today.
Check out this opioid risk assessment tool: Click here
Tips for safe opioid use:
Only take the amount prescribed
Do not crush or split pills
If you forget, do not double-up your dose
Download this PDF for more information about opioids.