Patients Share Their Stories
Michael's Testimonial
Lauri's Testimonial
Patient shares their experience with Dr. Frisch and his staff after having joint replacement surgery.
George's Testimonial
Rita's Testimonial
Mary's Testimonial
Lisa's Testimonial
Audrey's Testimonial
Hip Replacement - Patient Testimonial
Left Hip Replacement - Patient Testimonial
Right Knee Replacement - Patient Testimonial
Left Hip Replacement - Patient Testimonial
Hip Replacement - Patient Testimonial
Lisa's Story
Total Knee Replacement - Patient Testimonial
8 Weeks Total Hip Replacement
Total Knee Replacement and Partial Knee Replacement Testimonial Video
Patient Testimonial 6 Weeks THA
Two Weeks Post Op Total Knee Replacement
5 weeks after THA
Total Hip Replacement - JK Testimonial
Patient discussing his experience with Total Hip Replacement
Patient talking about his experience and high level of function
2 weeks and 1 day after her total hip replacement!
Revision TKA - Revision Total Knee Replacement
Outpatient THA - Outpatient Total Hip Replacement
TKA - Outpatient Total Knee Replacement
THA - Total Hip Replacement Testimonial Video
4 months after Revision TKA with Extensor Mechanism Allograft
Experience after Joint Replacement Surgery
JT is 2 weeks out from a Revision Total Knee Replacement
Hours after Total Knee Replacement
Total Knee Replacement - 2 weeks post-op
GD - Bilateral Hip Replacement
JE - Total Knee Replacement
2 weeks after Total Knee Replacement - Testimonial
4 weeks after Total Hip Replacement - Testimonial
Total Knee Replacement Testimonial
Outpatient Knee Surgery Testimonial
Bilateral Hip Replacement Story - Joseph C.
Partial Knee Replacement Patient Story - Dan B.
TC - Conversion Total Hip Replacement with removal of hardware from previous Hip Surgery
Revision THA after Chronic Dislocation with Multiple Previous Infections
Patient had multiple previous hip replacements that were complicated by infection. The last infection resulted in a dislocation that became chronic and she hadn't walked in 3 years. We revised her hip and she is currently in therapy, walking very well with her walker and doing excellent!
Paul V.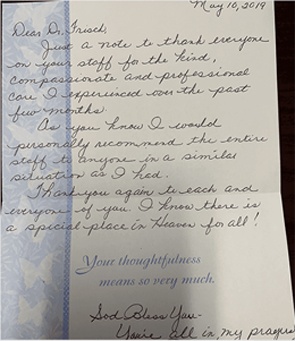 Dear Dr. Frisch,
Just a note to thank everyone on your staff for the kind, compassionate and professional care. I expirenced over the past few months.
As you know I would personally recommend the entire staff to anyone in a similar situations as I had.
Thank you again to each and everyone of you. I know there is a special place in Heaven for all!
Your thoughtfulness means so very much.
God Bless You
Pat H.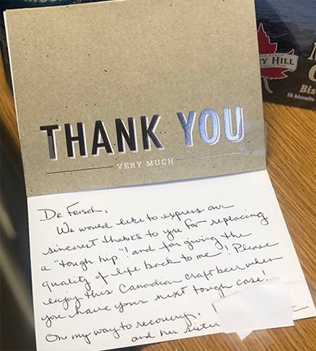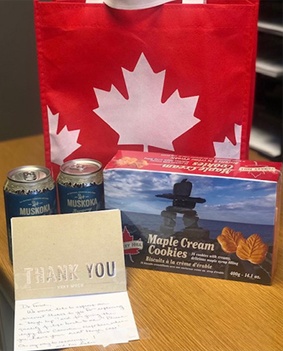 I am no stranger to knee surgeries having had 8 knee surgeries on my rt knee over the past 22 years, including a partial knee replacement. The revision and total knee replacement that Dr. Frisch performed had a better outcome than several of my arthroscopic surgeries relative to pain, mobility, & recovery rate. I searched for over 2 years until I found a surgeon that specialized in revisions including looking in other states. I found the best, Dr Frisch, and my quick recovery, lack of significant pain, range of motion and ability to get back to the gym after 1 week post-op is a testament to his superior skills and post-op regimen. He exceeded all expectations I had.
Lori O.
I walked out of surgery hospital an hour and a half after hip replacement surgery.went rock hunting the next day . It been two months since my surgery I'm doing things I haven't been able to do in ten years.I would recommend doctor Frisch to anyone.
Patrick J.
I suffered a horrible fall down a flight of stairs in my home. After all was said and done the sepsis in my body centered in my left knee. My previous Doctor said all he could do was remove the artificial knee joint and replace it with a 'spacer'. This left me with a 'peg leg' of sorts, like Captain Hook. I could only straighten my left leg ever so slightly and my foot was permanently turned quite a bit to the left. When I had to pick something up of the floor I looked like a giraffe trying to take a sip of water. This all changed when I was referred to Doctor Frisch by Doctor LaMacchia, who did a wonderful job on my back. Doctor Frisch ordered many tests prior to the operation on October 16th, 2018 and then consulted with the Mayo Clinic who concurred with him as to the probable outcome of his projected operation on my left leg. The result was amazing! When he changed the first cast and my wife and I saw my knee for the first time after the operation, we both wept with joy. I had a new knee cap and thigh muscle and my knee was a normal size again. After the final cast was removed and a hinged brace was fitted I began to walk normally with a walker. I could now ascend the stairs, that I had fallen down, in a normal manner instead of one step at a time like before with the spacer in my leg. I could squat down normally to pick things up off the floor. I could extend my left leg out perfectly straight whereas before it would only move a few degrees. Doctor Frisch transformed my life like a miracle! What a difference! I'm now walking with cane and functioning like the accident never happened. This is not a run-of-the-mill Doctor. He's gifted with what he does. I can say this out of experience with several other Orthopaedic Doctors and I thank God that I found him. His staff is very much in sync with him and their a group of wonderful people; all really great at what they do. Don't pass this team by if you need this type or any other Orthopaedic surgery done. You will not be sorry. God Bless them all from the bottom of our hearts and thank-you SO much for restoring our lives. I'm headed to the heated driving range to lightly chip some golf balls now. All our love, Doctor Frisch and staff Mike/Sue.
Michael E.
After being diagnosed by two doctors with a torn meniscus and arthritis in my right knee I opted for surgery in 2016. The surgery did not alleviate the pain and I continued to have problems with the knee. When I was on vacation in the spring of 2017, the pain was so bad I could not walk and had to obtain a wheel chair. When I got home, I contacted my original orthopedic doctor and he told me my problem was my hip, not my knee. This was a surprise to me since I had no pain in the hip. He recommended I see Dr. Frisch, who diagnosed me with a bone-on-bone condition in my right hip. I was skeptical, however I agreed to the hip replacement surgery. I am so thankful I did. The surgery was a success (was in the hospital for less than ½ a day) and walked out after the surgery!! It is now eight months post-surgery and I am pain free, walking without a cane and back to doing many of the everyday tasks I could not do. Thank you Dr. Frisch. You are a very talented and dedicated surgeon!!
David M. L.
Dr. Frisch and His entire Staff are excellent. They are Professional, Courteous, and very understanding. I came in needing a total hip replacement and was very reluctant after my first hip replacement a few years back went terribly wrong. I was only in the hospital for 24 hours and was up and walking 2 hours after surgery and going up and down the stairs at my house within a week.Within a few weeks after surgery, I was walking and free of pain and discomfort. His followup after surgery included a phone call the night I got home to see how I was doing followed by very personnel post surgical care. I would strongly recommend Dr. Frisch and His Staff to Anyone who needs an Orthopedic Surgeon.
John S.
Hi Dr. Frisch, Just wanted to thank you for calling me a couple of weeks ago. I was shocked that you responded so quickly. Just want you to know that I am thru with therapy, and when measured today, I was at a 105 degree bend with my knee. I may get more with everyday activities and continuing yoga classes, but am happy with the progress so far. Thank you again for your great care.
Dixie.
I had a partial knee replacement 5 weeks ago. I went back to work last week & I have very physical job where I have to do a lot of kneeling & lifting. Dr. Frisch explained everything thoroughly before & after surgery. So I knew what to expect, and what was expected of me to ensure success. Everyone I talk to who has any experience with knee surgery is amazed at how quickly I have recovered & how good my scar looks. They say, "You must've had a really good surgeon." And I agree. Thanks!
Steve V.
I had total hip replacement 9 days ago by Dr. Frisch, and I am pain free and able to walk with a cane to assure that I don't fall. I expect to no longer need the cane once my muscle strength is sufficient, probably in about a week. The entire experience from the first office visit to now has been fantastic. Very friendly people that are good at their jobs. This includes Crittenton Hospital personnel. Dr. Frisch has a nice personality, he was thorough in explaining details regarding my condition and he answered all of my questions without making me feel hurried. The hip replacement implants selected were top of the line, the surgical skill of Dr. Frisch is excellent with great post-surgical results, and the follow up program to monitor wear of the plastic part of the implant is comforting. Physical therapy in the Ascension LaMacchia Orthopaedic Institute office has been great as well. Each Therapist knows the surgical technique of each Doctor, and they tailor the physical therapy accordingly. They explain why certain muscles hurt after the surgery and they quickly alleviate the pain. The main goals of strengthening muscles and achieving range of motion are clear, and the therapy has met these goals so far. I will know more as my physical therapy progresses. I could not ask for anything more in this experience, and I highly recommend Dr. Frisch as an Orthopaedic Surgeon. Based on my experience so far, and in talking to other people that have had "work done" at Ascension LaMacchia Orthopaedic Institute, I recommend this office and group of Surgeons in general to correct issues with knees, hips, spine and shoulders. These people are the best of the best. Many thanks for improving my quality of life. I hope that I don't need to see you in the future, but if I do, I have confidence that you will dramatically improve my quality of life once again.
Keith O.
I had Dr. Nicholas Frisch at Crittenton Hospital do a right hip THA revision surgery to restore an old hip replacement. I went home the next day. A great nursing staff, so caring – a total team and so on hands. Dr. Frisch called me personally the next day instead of having the office call me.
I had fallen on my knee, which I had previous had replaced in 2002. After seeing medical staff for my injury I was told that I would need to go to a larger hospital due to the injury being so complex. My daughter made a phone call to the Ascension LaMacchia Orthopaedic Institute, here in Rochester. The doctors met me down in the ER at Crittenton, and Dr. Frisch did the surgery on 08/28/2017. I cannot thank him or his staff enough for the care I received. As of today, December 8th, I am no walking on a cane and I am full weight bearing on my leg. I thank God that we were led to Dr. Frisch, and that he was able to do my surgery. I couldn't have asked for better care, a better surgeon, or a better outcome after my surgery. I want extend a big thank you to Dr. Frisch and his staff.
Dixie C.