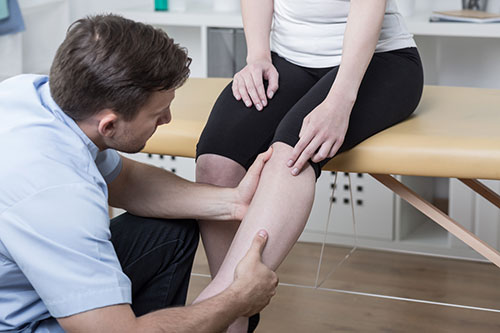 Did you know that knee replacement surgery is the most commonly performed elective surgical procedure in the US? And as people continue to stay active well into their 60s and 70s, the number knee replacements performed every year is expected to increase.
But knowing when to have a knee replacement isn't always clear. Despite the technological advances in implant materials and minimally invasive surgical techniques, knee replacement is a major procedure and there are some risks and complications involved with the procedure. Also, knee replacement is rarely performed as an emergency procedure which means the individual has to make an informed decision to undergo knee replacement surgery.
So, when should you consider knee replacement surgery? Here are some possible indications that you may be a candidate:
Knee pain interferes with everyday activities - Routine activities of daily living such as walking and getting up from a sitting position become painful or you have problems getting a good night's sleep due to knee pain.
Conservative treatment does not help -Your knee pain is not relieved with pain medications, physical therapy, or other forms of conservative treatment.
Very severe trauma to the knee - For knee pain due to early-stage arthritis or minor trauma, less invasive procedures such as knee arthroscopy may be able to resolve the condition. In case of end-stage arthritis or severe trauma, knee replacement may your best option.
Putting off knee replacement and choosing to live with the damaged or arthritic knee could have serious consequences such as:
Weakening of the surrounding leg muscles
Deformity of adjacent bone structures
Negative impact on quality of life
Need for a complicated knee replacement procedure
Slow recovery after knee replacement is finally performed
If you have a sedentary job that does not require much physical activity or weightbearing on the knee, you could probably delay or altogether avoid undergoing knee replacement with activity modification and use of non-surgical treatment options. However, if you have a crippling knee condition and would like to maintain an active lifestyle, undergoing knee replacement sooner rather than later improves the likelihood of a positive surgical outcome.
Consult Dr. Frisch to find out if you might be a candidate for knee replacement.
Dr. Frisch is a specialist orthopedic surgeon focusing on minimally invasive hip and knee joint replacement as well as regenerative treatments for enhanced healing. He believes in creating a very personalized experience with the highest level of service. For all appointments & inquiries, please contact our offices located in Rochester, River District, and Tawas City, MI.