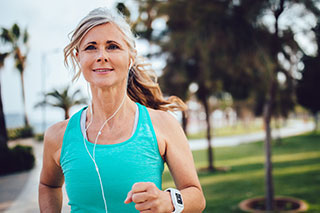 Regenerative Medicine offers promising results in the field of orthopedics. For some patients, innovative treatments such as stem cell therapy and platelet rich plasma injections are helping many professional athletes and those suffering from joint disease return to more active lifestyles.
The body's natural healing capacity is contingent on good blood flow to the site of injury. Cartilage, tendons, and ligaments, in general, have relatively poor blood supply and very limited healing potential, and injuries that involve these tissues heal very slowly or not at all. Additionally, increased age can further compound and slow down the healing process. Here's where regenerative medicine comes into play.
Stem cell therapy is an exciting development in regenerative medicine. Stem cells are undifferentiated cells that have the ability to transform into specialized cells such as cartilage cells, ligaments cells, tendon cells, bone cells, and muscle cells. They can be obtained from the patient's bone marrow or fat. Stem cells can also be obtained from umbilical cord blood of healthy donors. These cells are injected into the site of injury where they cause growth of specific types of tissues. Swelling and inflammation can also be controlled with stem cell therapy.
In platelet rich plasma therapy, blood is drawn from the patient and processed in a laboratory to obtain platelet-rich plasma (PRP). The PRP not only helps with formation of clots, but also contains many growth factors and proteins essential for healing.
In general, it is thought that these biologic treatments, both stem cells and PRP improve the local healing environment of the tissues, which ultimately decreases pain and has the potential to improve function. Conditions that may benefit from regenerative medicine include early osteoarthritis, meniscus injuries, partial muscle tears, tendon, and ligament injuries. In the future, the scope of regenerative medicine in orthopedics is likely to expand further.
We are pleased to offer this innovative treatment in our practice for patients that are appropriate candidates. Not every patient is a good candidate for these treatments and a thorough evaluation is required to ensure that the appropriate treatment is being provided. Despite encouraging results in select patients, the appropriate utilization of this technology and better understanding of the indications requires further investigation. We do believe there is an evolving role for biologic treatments and use an evidence-based approach to selecting only those patients we truly believe may benefit.
It is important to note that most commercial insurance providers do not cover the cost of stem cells and PRP, and the out-of-pocket expense varies.