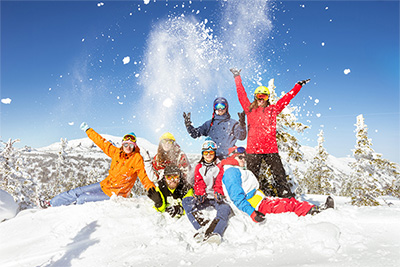 Nothing quite matches up to the unique thrills and spills experienced when participating in winter sports. They are among the most adventurous activities you can perform in snow-covered places. Popular winter sports activities include:
Snowboarding
Snow skiing
Sledding and tobogganing
Ice skating
Ice hockey
Winter sports require practice and care, otherwise, you risk serious injury. More than 220,000 winter sports injuries are reported each year in the U.S. alone. The most common types of injuries are strains and sprains. The lower extremity is the most common site of injury. Fractures and dislocations may also occur with collisions or falls at high speeds.
Here are few tips to prevent winter sports injuries:
Prepare Your Body: Make sure your overall physical condition is good enough for the activity you are going to perform. Eat a well-balanced diet and keep yourself hydrated by drinking enough water. Perform few stretches and light exercise to warm up just before going out onto the snow or ice.
Participate in Groups: Never participate in winter sports alone. Always have one or more companions with you. If you are alone, you may not be able to get timely help and risk aggravating the injury or getting frostbite.
Outerwear: Wear multi-layered clothes and keep yourself warm. Helmets, gloves, facemasks, jackets, and padding should also be used as appropriate. Your clothes and shoes must be water/wind resistant and fit properly.
Take Lessons: When learning a new sport, it is best to seek the help of a qualified instructor. Ask your instructor about all the necessary safety measures to avoid injuries including fall techniques.
Heed Warnings: Check the weather forecasts and do not participate in winter sports during very harsh conditions.
Know Your Limits: Stop your activity once you are tired or exhausted. Do not participate in winter sports if you are injured or suffer from illness.
The above-tips will help you maximize your fun and minimize your risk of winter sports injury.