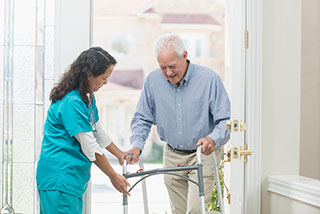 Total knee replacement is the most successful elective joint replacement surgery in the US with approximately 700,000 badly arthritic or damaged kneesbeing replaced with high-functioning prosthetic knee implants every year. And yet, many potential candidates are hesitant to undergo the procedure for a variety of reasons. Rapid Recovery Knee Replacementis an advanced and innovative surgical approach offering many benefits to patients:
Benefits of Rapid Recovery Knee Replacement:
Minimally Invasive Surgery: The surgery is performed through smaller incisions, involves less cutting of muscles and tendons, causes smaller scars, and less blood loss due to minimal soft tissue trauma.
Rapid Recovery:Because of the muscle sparing nature of the surgery, the new knee has better support from the surrounding musculature. Most patients can expect to start bearing weight on the knee within 4 to 5 hours after and can return home on the same day.
Better Pain Control:Due to advanced anesthesia methods employed such as multimodal pain management, patients feel less pain during recovery and can effectively manage symptoms with nonopioid medications.
Less Risk of Postsurgical Complications: Patientsare less likely to have hospital acquired infections due to shorter hospital stays and have a lower risk of developing blood clotsdue to early mobilization.
Superior Patient Satisfaction:Most patients are extremely satisfied with the procedure and their overall experience and are happy to recover in the comfort of their home.
Not every patient will need to have Rapid Recovery Knee Replacement. Book an appointment with Dr. Nicholas Frisch to discuss all non-surgical and surgical options for your condition.
Dr. Frisch is an orthopedic surgeon focusing on minimally invasive hip and knee joint replacement as well as regenerative treatments for enhanced healing. He believes in creating a very personalized experience with the highest level of service. For all appointments & inquiries, please contact our offices located in Rochester andRiver District, MI.