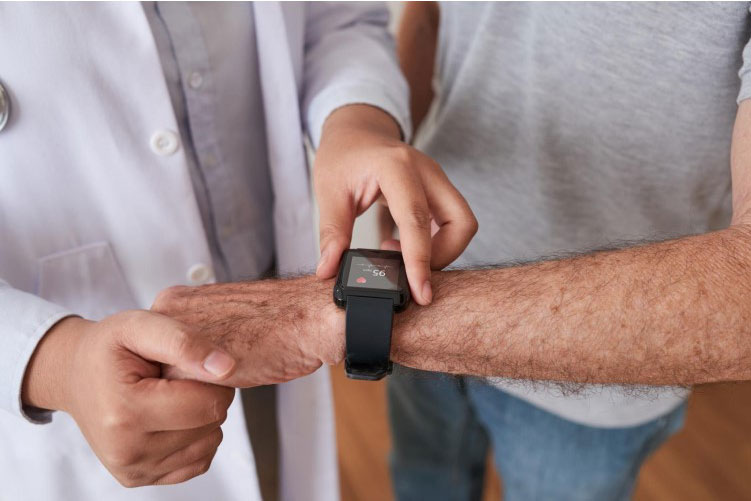 The use of advanced technology to improve accuracy and precision of implant placement has been an important innovation in orthopedic surgery. Technology and innovation continue to change joint replacement for surgeons and patients alike.
The role of technology in joint replacement has allowed for a customized, tailored approach for patient-specific joint replacement and now the same is true of recovery. Two innovations changing the recovery process for patients after joint replacement are implant smart technology through Persona IQ and wearable technology with mymobility™ App .
Persona IQ:
Persona IQ is the first and only smart knee implant. On the bottom portion of the implant, a small "smart" stem extension is attached. This stem contains sensors that capture important information about a patient's recovery like range of motion, stride length, walking speed, and step count. This technology allows us to remotely view data throughout a patient's recovery.
Remote patient monitoring (RPM) is increasing in popularity. It keeps physicians informed with essential information on a patient's condition without the patient having to leave their home. In 2020, an estimated 23.4 million patients utilized some form of remote patient monitoring.1
mymobility™ App:
Another innovation in technology that is helping patients is wearable tech such as mymobility™ App. This mobile app reminds patients to read timely educational information, perform assigned tasks, and complete specific exercises. At the same time, it allows the surgical team to closely monitor all aspects of the postsurgical recovery.
Smart technology encourages a proactive approach to healthcare as patients have their activity information readily available to fully participate in their own recovery. Having close communication between the surgical team and patient can help reduce recovery time and costs associated with prolonged physical therapy.
Technology and innovation continue to change joint replacement for surgeons and patients by providing innovative follow-up and better surgical outcomes.
Dr. Frisch is a specialist orthopedic surgeon focusing on minimally invasive hip and knee joint replacement as well as complex primary and revision surgery. He believes in creating a very personalized experience with the highest level of service. Visit one of our offices located in Rochester, River District, or Tawas City, MI.
1www.medicaltechnologyschools.com/medical-lab-technician/top-new-health-technologies