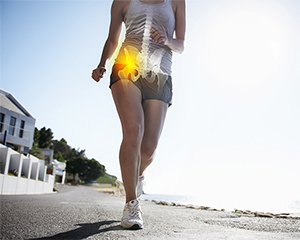 Platelet-rich plasma (PRP) therapy is an innovative and advanced treatment that has been suggested, in certain clinical studies, to provide significant relief for longstanding tendon, ligament, and cartilage injuries as well as other chronic musculoskeletal conditions.
Injuries to ligaments, tendons, and cartilage tissue are very difficult to heal because of the poor blood supply to these tissues. PRP contains a large amount of healing and growth factors, which when injected into the site of injury in the hip improves the internal environment of the joint.
Individuals suffering from hip pain caused by osteoarthritis, hip bursitis, hamstring and hip strains, impact or traumatic injuries, sports injuries, repetitive strain injuries, sacroiliac joint problems, and running injuries may be potential candidates for PRP treatments.
PRP can be conveniently obtained from your own blood by a simple process. A small amount of your blood is drawn and placed in a centrifuge which spins the blood at a very high speeds to obtain the concentrated platelets or platelet-rich plasma. Within this plasma are hundreds of proteins and specific growth factors that are important in a normal healing response and provide anti-inflammatory relief. The platelet-rich plasma will then be injected into the injured area of the hip under ultrasound or fluoroscopic guidance to ensure precise placement for maximum benefit. The entire process from blood draw to injection will be usually be completed within an hour. As PRP is obtained from your own body, the likelihood of side effects is minimal.
The number of PRP injections required will vary and studies are still needed to determine the optimal number of treatments. Typically, one injection is performed, and your results are followed clinically. In some cases, 3 injections spaced a week apart should provide significant and sustained improvement of painful hip symptoms.
Many high-level athletes have been able to bounce back quickly from injury and return to their game with the help of PRP treatments, however, the effectiveness of treatment may vary from individual to individual. Contact our office to see if you are a candidate for PRP or schedule an appointment to speak with us in person and discuss the right options for you.