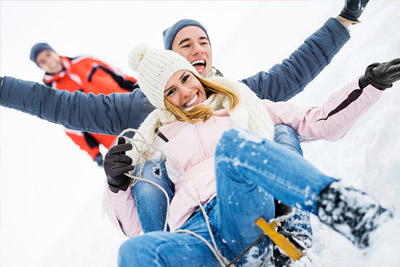 Can arthritic pain be a predictor of imminent winter arrival? Some people seem to think so. Although the exact mechanism is not clear, it is quite likely that changes in the weather do cause arthritis symptoms to flare up. Let's look at how winter weather affects arthritis pain.
Barometric pressure (air pressure), temperature, humidity, and precipitation may all have a role to play in worsening arthritis symptoms. Some of the theories are as follows:
Wear and tear of the cartilage exposes nerve endings in the joints that increases sensitivity.
Barometric changes cause tissues within the joint to contract or expand resulting in joint pain.
Falling temperatures causes thickening of synovial fluid resulting in joint stiffness and discomfort.
Not moving too much due to cold weather in and of itself may worsen arthritis symptoms.
Here are some steps to help you manage the weather-related increase in your arthritis symptoms:
Wear Warm Clothing: A good tip is to wear multiple layers of clothing including gloves and leggings. This way you can peel off the outer layers of clothing if the temperatures change dramatically during the day to maintain your comfort level.
Stay Active: Resist the urge to move less in the winter. Use an indoor treadmill or elliptical trainer while watching your favorite TV shows, or come up with a good program of bodyweight exercises to keep your joints supple and strong.
Eat Healthy: Most Americans tend to put on a pound or two during the winter season, which unfortunately is hardly ever lost. Allow yourself the occasional treat during this season, but don't overdo it as the steady weight gain over the years can be disastrous for your joints.
Pain Medications: Although lifestyle modifications should be your first line of treatment in trying to relieve your pain, the occasional pain reliever or anti-inflammatory medication may be appropriate when taken as recommended by your doctor.
Dr. Frisch is a specialist orthopedic surgeon focusing on minimally invasive hip and knee joint replacement as well as regenerative treatments for enhanced healing. He believes in creating a very personalized experience with the highest level of service. For all appointments & inquiries, please contact our offices located in Rochester and River District, MI.