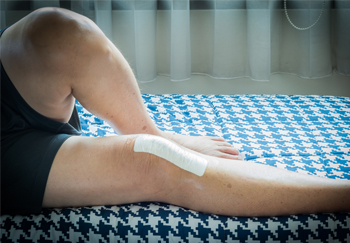 One of the questions on the minds of hip or knee replacement surgery patients is how to manage their post surgical dressing. Keeping the incision site clean and protecting it from infection is important for achieving a successful surgical outcome. Here's how to care for your incision and look after your dressing after your surgery.
Multiple different layers of sutures are used to close the surgical incision. A surgical mesh and glue is then placed on top of the incision and a waterproof dressing is placed on top of it. The surgical dressing needs to remain in place for one week. During this time, you may shower but have no baths. After showering you must gently pat the dressing dry.
You can remove the surgical dressing yourself after one week. Start from one corner of the dressing and begin to slowly peel it off. After partially removing the dressing, you should be able to see the surgical mesh underneath. Place one finger on the mesh to hold it in place and continue to peel off the dressing in line with the incision.
The surgical mesh will stay on for 2-3 weeks. During this time, the mesh will start to peel up at the edges. These edges can be trimmed with a pair of scissors to protect the mesh. After 2-3 weeks, the mesh can be slowly peeled off in the same way as the outer surgical dressing.
If your surgical dressing or mesh gets displaced earlier than the times mentioned above, you should call our office for further instructions. In some instances, you may need to return to the office for a re-application of the dressing.
To ensure the surgical site is healing well, you should clean it gently with soap and water, but do not scrub or soak the incision until you are cleared to do so. Inspect the area every day and watch for signs of infection such as yellow or green discharge and redness, hardness or increasing warmth of the surrounding skin. Contact our office as soon as possible if you notice any of these signs.
Dr. Frisch is an orthopedic surgeon focusing on minimally invasive hip and knee joint replacement as well as regenerative treatments for enhanced healing. He believes in creating a very personalized experience with the highest level of service. For all appointments & inquiries, please contact our offices located in Rochester and River District, MI.