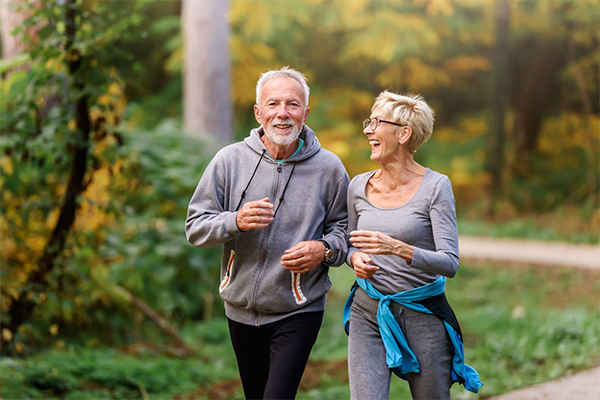 Did you know that approximately 24% of all adults in the US suffer from arthritis?1 Arthritis is a condition where one or more joints are inflamed or swollen causing joint pain and stiffness. There are many types of arthritis but most often, this condition develops due to normal wear and tear of the joints over one's life. This condition can be debilitating and disrupt an individual's ability to comfortably engage in everyday activities. Fortunately, there are ways to combat and alleviate some of the symptoms of arthritis.
Joint-friendly exercises are extremely effective at treating arthritis pain and stiffness. Some exercises that are often recommended for those with arthritis include walking, biking, swimming, water aerobics, or light dancing. It is recommended that adults with arthritis exercise about 150 minutes per week, but any physical activity is better than none.
Here are some of the benefits of exercising with arthritis:
Alleviate arthritic pain

Regular activity and exercise will help to loosen your joints and lubricate them, decreasing pain.

Strengthen joint-supporting muscles

Certain exercises directed at building muscle around your arthritic joints will help strengthen and support the joint, decreasing the likelihood of any further bone loss.

Increased range of motion

When you have arthritis, it is easy to avoid using your stiff joints. However, exercising these areas on a consistent basis will increase flexibility in your joint as well as your range of motion.

Weight control

Many individuals suffering from arthritis are overweight, putting even more stress on their joints. Thus, regular exercise can help jumpstart weight loss and control weight gain, promoting better joint health.

Delay onset of arthritis-related conditions

Severe cases of arthritis can result in chronic disabilities when it affects your ability to engage in daily movements or activities. To avoid this development, exercise can delay degradation of your joints.
It may be challenging to motivate yourself to get up and active while suffering from arthritis, however, it is essential for your joint health. If you need help with starting your exercise journey, your doctor may recommend physical therapy to teach you personalized exercises that are best for your arthritis.
If you are struggling with arthritis and need guidance on what steps to take next, contact Dr. Frisch for a consultation today!
Dr. Frisch is a specialist orthopedic surgeon focusing on minimally invasive hip and knee joint replacement as well as complex primary and revision surgery. He believes in creating a very personalized experience with the highest level of service. For all appointments & inquiries, please contact our offices located in Rochester and River District, MI.