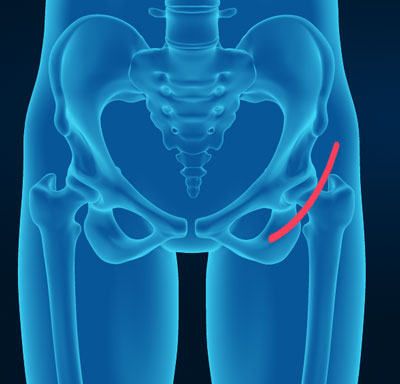 Anterior hip replacement is not a new approach. It has been used for decades but has grown in popularity in recent years. The anterior approach to the hip is a minimally invasive procedure that has helped many people suffering from painful arthritic symptoms return to their active lifestyles with minimal downtime. Could you be a candidate for this procedure?
Here are some of the important benefits of the anterior approach hip replacement procedure:
Small Incision Size: The anterior approach hip replacement is performed through an incision that typically ranges from about 4 to 6-inches in length.
Avoids Cutting Important Hip Muscles: There are fewer muscles to deal with when using the anterior approach as compared to the posterior approach, and the surgeon works in between these muscles rather than cutting or detaching them while performing hip replacement.
Quick Recovery: As there is less injury to healthy tissue surrounding the hip joint, most patients return quickly to routine activities of daily living.
Minimal Restrictions: After traditional posterior approach hip replacement surgery, patients are advised to avoid sitting cross legged, deep bending at the hip, or extreme internal hip rotation for about 2 months. You can safely perform these movements after anterior hip replacement.
Less Risk of Hip Dislocation: As there is minimal damage to the muscles surrounding the hip joint, they help stabilize and support the new hip reducing the risk of hip dislocation.
Don't let hip pain be an impingement on your lifestyle. Book an appointment with Dr. Nichols Frisch, Specialist Hip & Knee Orthopedic Surgeon in Rochester, Tawas City or River District, MI to discuss surgical and nonsurgical options for your specific condition.
Dr. Frisch is a specialist orthopedic surgeon focusing on minimally invasive hip and knee joint replacement as well as complex primary and revision surgery. He believes in creating a very personalized experience with the highest level of service. For all appointments & inquiries, please contact our offices located in Rochester, River District, or Tawas City, MI.