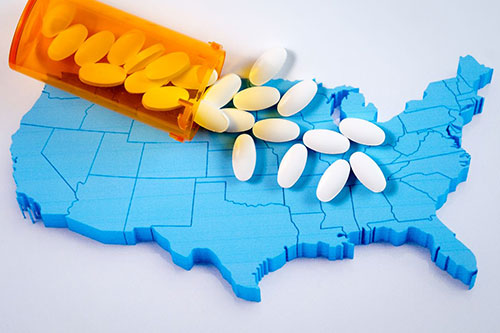 Did you know that in the year 2017, there were 2033 opioid related deaths in the State of Michigan alone? That's 21.2 deaths per 100,000 people which is higher than the national rate of 14.6. In the interest of safeguarding your health and that of your loved ones, here are 7 tips for safe opioid use:
Learn as much as you can about the risks. Long term opioid addiction can have devastating consequences such as reduced oxygen supply to the brain and vital organs, respiratory depression, and increased sensitivity to pain. The greater your understanding of the consequences, the less likely the chances of abusing opioids.
Use the lowest effective dose for the shortest amount of time. For example, following a bone fracture, most patients will not require opioids to control their pain for longer than 3 days.
Try other pain control options first. Consider opioids only after trying all other options such as non-opioid medications that are nonaddictive or non- pharmacological options such as physical therapy, transcutaneous electrical nerve stimulation, and platelet rich plasma therapy.
Set realistic goals. Partner with your doctor to make an honest assessment of how much pain control you require to perform activities of daily living and maintain quality of life.
Sign an "opioid contract". Most doctors agree that a written and signed patient- physician agreement helps provide the structure, monitoring, and support needed to help patients use opioids effectively in treating chronic pain.
Report side effects of opioids right way. Carefully read the instructions on the drug safety sheet attached to your prescriptions. If you experience any side effects from opioid use such as confusion, slowed breathing, or nausea; contact your provider immediately.
Don't stop cold turkey. Abruptly stopping opioid medications if you have been taking them for a while can cause withdrawal symptoms and side effects that have potentially serious health risks. Ask your doctor to help you wean off them gradually.
Dispose unused medications. Don't store unused opioid medications in your cabinet on the assumption that you might need them in the future. A large part of the opioid crisis is driven by people using opioids that weren't originally prescribed for them.
For more information on how the opioid crisis is impacting the lives of the people of Michigan and what can be done about it, please click here.
Dr. Frisch is a specialist orthopedic surgeon focusing on minimally invasive hip and knee joint replacement as well as regenerative treatments for enhanced healing. He believes in creating a very personalized experience with the highest level of service. For all appointments & inquiries, please contact our offices located in Rochester, River District, and Tawas City, MI.