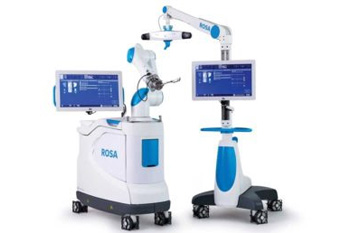 Feeling prepared and knowing what to expect for your outpatient robotic knee surgery can help defuse stress and anxiety. When your same day outpatient surgery is scheduled, it is imperative that you walk into surgery feeling healthy, prepared, and informed. The better prepared you are for your surgery the lower the risks and quicker the recovery time will be. There are many benefits to having Robotic-assisted surgery, a shorter recovery time and your surgeon has better visualization leading to a more precise surgery allowing for a better patient outcome.
6 benefits of outpatient robotic knee surgery include:


Excellent Surgical Outcomes- With precise placement of implants, the patient's natural anatomy is reproduced. This allows tendons, ligaments, and muscles around the joint to function more normally. Patients are thus able to recover quickly and return to their routine activities.


Outpatient stay - Increasingly robotic surgery is being performed in the outpatient setting enabling patients to return home on the same day as the robotic surgery or after an overnight stay, cutting financial costs.


Minimally Invasive - As robotic surgeries are usually performed minimally invasively, there is less risk of postsurgical complications such as pain, infection, and delayed healing.


Less Pain and scarring - Advanced robotic technology usually results in very minimal scar tissue formation both externally on the skin which improves aesthetics and internally prevents adhesions between internal body structures.


Surgeons have a better range of motion and dexterity- The greater flexibility of the robotic arm gives the surgeon better angles and more freedom to work through small surgical incisions minimizing damage to surrounding healthy tissue.


Quicker return to normal activities- Since the process doesn't require large or multiple incisions, many patients experience significantly less pain after surgery and can often recover quicker.



Over the past decade, the scope of robotic surgery has expanded greatly to include common orthopedic procedures such as hip and knee joint replacement resulting in alleviation of painful symptoms, improved mobility, and greater patient satisfaction.
Dr. Frisch is a specialist orthopedic surgeon focusing on minimally invasive hip and knee joint replacement as well as complex primary and revision surgery. He believes in creating a very personalized experience with the highest level of service. For all appointments & inquiries, please contact our offices located in Rochester, River District, or Tawas City, MI.