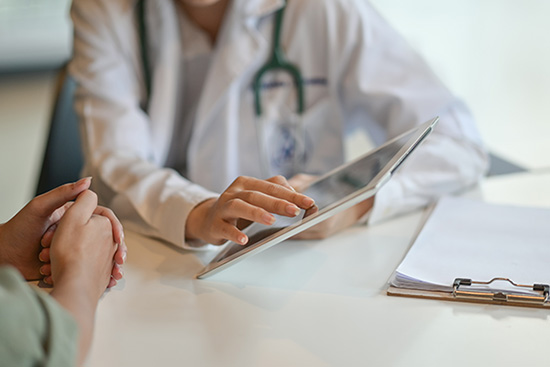 According to the Agency for Healthcare Research and Quality, more than 450,000 total hip replacements are performed each year in the United States.¹ Hip replacement is an elective surgery, meaning you as the patient determine whether to have surgery or not. Deciding to have surgery requires careful consideration and open dialogue with your doctor.
The following questions can help start a conversation with your doctor about hip replacement surgery.
Is hip replacement the best option for treatment at this time?

The goal of orthopedic care is to relieve pain for a return to an active lifestyle. Non-surgical options may be able to accomplish these desired results. Be sure to talk to your doctor about all available treatments.

Is there anything I can do before surgery to ensure a successful outcome?

Successful surgical outcomes start long before you arrive at the hospital for surgery. In the weeks leading up to your appointment, eating a balanced, nutrient rich diet will help boost your immune system and prepare your body for surgery. Your doctor may also recommend exercise or therapy that will help strengthen the surrounding muscles to help support your joint after surgery.

What should I expect from surgery?

There are several different types of hip replacement surgeries - Minimally Invasive Hip Replacement, Posterior Hip Replacement, Anterior Hip Replacement, and Revision Hip Replacement. Depending on your specific circumstances, your doctor will recommend the procedure that is best for you. The type of procedure your doctor recommends will help guide you as you prepare for recovery.

What do I need to know about recovery?

Depending on your procedure, you may want to prepare your home and have a caregiver present after surgery. Your doctor can also recommend exercises or therapy to help you gain strength and mobility. Check with your doctor to have reasonable expectations for your recovery and how soon you can return to normal activities.

How long can I expect this joint replacement to last?

Joint replacements can last 2 decades or more. Inquire about ways to extend the life of your joint such as maintaining a healthy weight or limiting certain activities.
Educated patients have better outcomes. The decision to have hip replacement surgery should be made after careful consideration and open dialogue with your doctor. Most importantly, your doctor is there to walk with you through this process, so never hesitate to ask any questions that you may have. Together, you and your doctor can plan for success.
Dr. Frisch is a specialist orthopedic surgeon focusing on minimally invasive hip and knee joint replacement as well as complex primary and revision surgery. He believes in creating a very personalized experience with the highest level of service. For all appointments & inquiries, please contact our offices located in Rochester, River District, or Tawas City, MI.